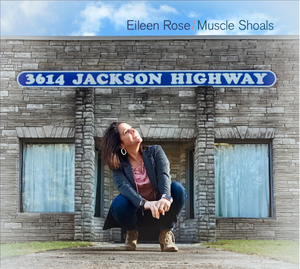 2019 brought a creative avalanche and a rare opportunity for acclaimed singer-songwriter-musician Eileen Rose. Writing two novels and recording a double album is a hearty year, by anyone's standard. But the chance to make that album at the historic Muscle Shoals Sound Studio, Alabama, was something truly extraordinary.
The result, 'Eileen Rose - Muscle Shoals,' is slated for an April 2020 release. Produced by Rose herself, it is destined to be a hands-down favorite for long term fans and the surprise of the year for those yet to discover Rose's extraordinary songcraft and astonishing voice. 
Rose's breakthrough album, 2000's Shine Like It Does, recorded with country-techno renegades Alabama 3 (responsible for the theme tune to The Sopranos) and co-produced with Jerry Boise (The Beatles, Buena Vista Social Club) was released on seminal label, Rough Trade Records. The newly minted solo artist had the music press reaching for the superlatives. And so it's been for every Rose album to follow. 
These include Rose stand-outs Be Many Gone (2015), Luna Turista (2010), At Our Tables (2008), Come The Storm (2005) which Judy Collins personally offered to release in the US after seeing Rose on stage in Glasgow, and Long Shot Novena (2002), which features members of Del Amitri, legendary British punk band The Ruts and sometime Sex Pistol Glen Matlock. 
'Eileen Rose - Muscle Shoals,' may be her most accomplished record to date. It includes an "A-side" of new songs that shimmer with the brilliance and confidence of a seasoned songwriter and performer at the top of her game. There is also a bonus "B-side" of Rose's most beloved tracks, re-recorded in those extraordinary surroundings because Eileen "fell in love with the sound of this band in that room, and I just had to." 
Established in 1969 by legendary Fame Studio session musicians, The Swampers, the iconic studio helped make Muscle Shoals the "Hit Recording Capital of the World." Though still a working studio, MSSS is so crucial to music history that it's also a museum. Thousands of music fans the world over come to tour this former casket factory where icons like The Rolling Stones, Linda Rondstadt, Bob Dylan, Paul Simon, Willie Nelson, The Staple Singers, Rod Stewart, Leon Russell, Bob Seger, The Allman Brothers recorded some of their most beloved songs. 
A natural fit for Eileen who "has absorbed and oozed so many musical influences throughout her career, that the term 'Americana' could have almost been created for her." (Three Chords and The Truth) 
"The studio is primarily a museum now run by a foundation. We had to apply to record there," Eileen says, "They've done an incredible job of preserving the place—it's downright humbling. The instruments used on records like Brown Sugar, Wild Horses, Kodachrome...right there for us to play. I'm in a chair in the control room leaning over the desk, and on the wall is a photo of Mick Jagger in the same spot, recording Wild Horses and Brown Sugar. I used Linda Ronstadt's headphones in the same vocal booth right next to a photo of her in the same pot. Blew my mind. And the sound of that room is an instrument in itself. Easy to understand why it became a creative destination for so many great artists." 
"This band" is, of course, The Holy Wreck, an extraordinary group of Nashville veterans including guitar master Rich Gilbert (Frank Black, Jack White) on guitar and pedal steel, Chris Machlalan (Human Sexual Response, Haley Thompson King) on bass, and Steve Latanation (Agent Orange, The Legendary Shack Shakers) on drums. 
Catch Eileen Rose & The Holy Wreck in Spring 2020 on their  'Eileen Rose - Muscle Shoals' tour of Europe with stops in England, Scotland, Ireland, The Netherlands, and more.