About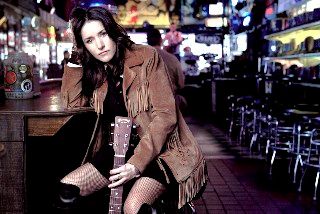 It's not a new story but an unfinished one: a captivating singer-songwriter from Boston, Eileen Rose, establishes and builds a critically acclaimed career in Europe, then comes home with music virtually new to North American audiences.
Eileen Rose Giadone was born in Saugus, Massachusetts, a blue collar suburb north of Boston that the city's many first and second generation Irish and Italian immigrant families called home. With a Sicilian father (Eileen speaks Italian) and an Irish mother, Eileen was second youngest of 3 brothers and 6 sisters.  She remembers growing up in a small house which was a former hunter's cabin - "...3 bedrooms, one bathroom, one phone and LOTS of noise."
Eileen's musical education started early. "There was always music on in the house. My mom is a big music fan and, now that I think about it, had pretty eclectic taste: Dean Martin, Irish traditional music, Johnny Cash, Kate Smith, polka music, country, big band... My dad was a great dancer and he and my mom would get dressed up and go dancing every Saturday night at the Moose Lodge. We would have big family cook-outs that always involved my aunts and uncles having a few highballs and sitting around in lawn chairs for hours singing - silly songs, Irish songs, patriotic songs, songs from popular movies – they had a blast. Music looked fun." 
"I was lucky, growing up how and when I did, when radio was still great.  We'd ride the bus to school with the radio blaring and on the way you'd hear Bowie, into the Ohio Players, Jessi Colter into Sweet, War into Elton John and wrap it up with a Glen Campbell, Linda Rondstadt... or maybe a little Disco Tex and The Sex-O-Lettes.  All that incredible song writing...radio and music was exciting - how could you not want to start a band?"    
Inspired to play and sing by her older brother Tony - "He had a real nice voice and touch on that acoustic guitar.  Who wrote good songs too and took me out to a couple coffee house shows where, I guess, I got the bug..."- Eileen borrowed his guitar and wrote her first song at the age of 14.   "It was predictably about a boy I thought was dreamy...", she laughs.  Around the same time, she discovered Kate Bush, and taught herself to sing by trying to emulate her and started sitting in with local bands here and there. When she finished high school, Eileen went off to college and began to study criminal law. But the inclination to write and sing was too strong, and she quit to pursue her passion. Using just her first name, which is Eileen-Rose ( "Giadone is hard to remember and tough to pronounce")  Eileen started a band and cut her teeth in the Boston music scene. Her first musical venture was a self-released acoustic folk album with her band, Daisy Chain which would eventually grow into her first signed band, Fledgling. 
"We did fairly well, for a local band, though not as well as some.  Still, I remember walking into Tower Records on Newbury street and seeing a big poster for our record on their wall. Pretty thrilling the first time that sort of thing happens to a musician. Makes you think your songs might actually be REAL songs". 
LONDON YEARS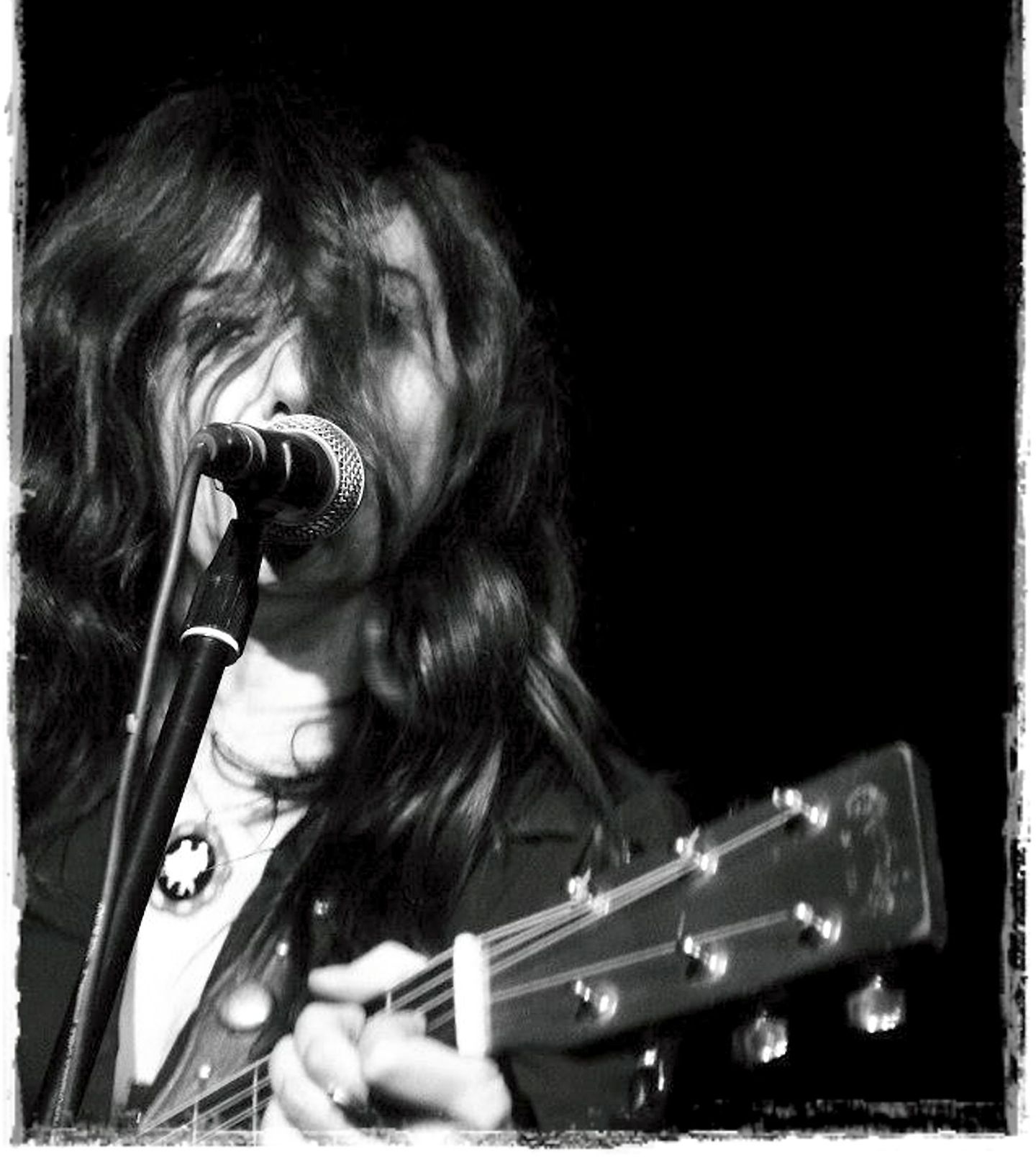 In 1991, Eileen moved to London and Fledgling signed deal with the now defunct TVT records. The band released one self-title album to great reviews. The label would eventually go bankrupt. 
"I finally got that coveted record deal, made an album, went on tour...and learned all that crummy stuff we all learn with our first record deal.  Then I had that typical, disheartened,  I'm-quitting-this-awful-business phase. But, if you're a lifer and not a tourist, you rub some dirt on it and keep going." 
In the mid-90s, Eileen split up the band, moved out of the city into an old cottage on a dairy farm in Essex and wrote songs. She started playing solo gigs around London, anywhere that would have her. One night she opened for Larry Love of techno-country mavericks Alabama 3, who was so impressed he offered his band to back her. Maverick Geoff Travis, head of the legendary Rough Trade label, saw one of their first gigs and offered Eileen a deal. 
Eileen released 2 albums on Rough Trade and that's when things really started to happen. Her 2000 debut, "Shine Like It Does", recorded with members of Alabama 3, had the British press reaching for superlatives like "sensational" (The Sunday Times), "a gem" (The Guardian) and "mesmeric" (Uncut). Time Out concluded that "few debut albums arrive so fully formed, so laden with wisdom, pain, magic and loss". Songs from the album were featured in a Disney movie and major television shows. The follow up, 2002's "Long Shot Novena" - which features members of Del Amitri, legendary British punk band The Ruts and sometime Sex Pistol Glen Matlock - was even more rapturously received. The Times found it "stunning", while Uncut marveled at the "rare power, polish and perception". During this period, Eileen toured the UK and US with the likes of Ryan Adams, Eddie Reader, Beth Orton,  Ron Sexsmith, Frank Black and Tanya Donnelly. 
BRINGING IT ALL BACK HOME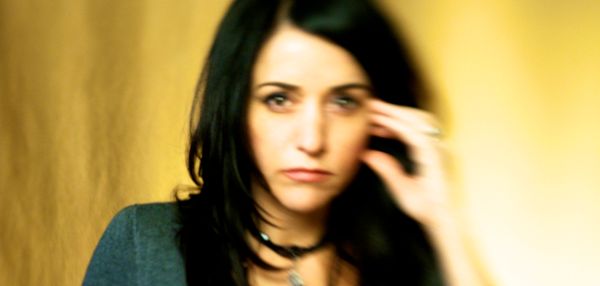 In 2003, after years of touring, playing and living in the UK, Eileen returned to Boston. 
"Everything changed for me after 9/11. It put things in perspective. My parents weren't getting any younger and I wanted to spend time with them. I just felt I needed to be home." 
Eileen taught herself to play the piano and set to writing her third album, "Come The Storm" over a long, cold winter spent on Martha's Vineyard, an island south of Cape Cod. She played a gig opening for  60's legend, Judy Collins who was so taken with her, she released "Come The Storm" on her own label,  Wildflower Records. Bloomberg called it "an exceptional album that deserves to make Rose huge." 
"Yeah, but it didn't!" Eileen laughs, showing a flash of her typical self-deprecating humor. 
She next took herself to Detroit, to record an album with producers Al Sutton and Eric Hoegemeyer who've worked with Kid Rock and Sheryl Crow. "At Our Tables" was released in 2008 on UK label, Floating World records.  Critics lauded this as her most accomplished to date. By now, Eileen was regularly touring Europe with her band The Holy Wreck and had expanded her loyal fan base to Italy, Germany and Holland. 
NASHVILLE SKYLINE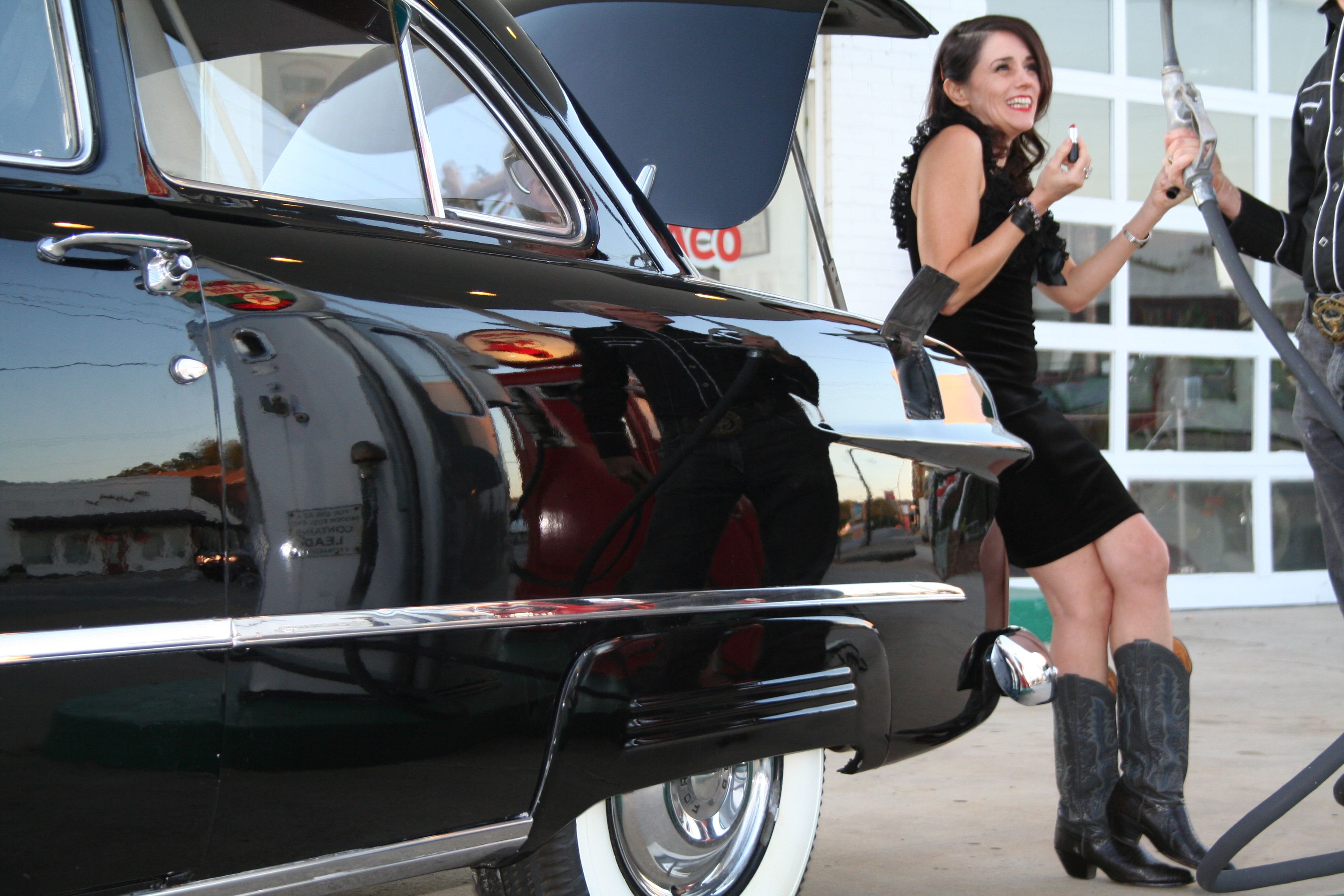 In late 2008, Eileen moved on again, this time relocating to Nashville, TN: 
  "My publishing company encouraged me to move here (from Boston) and to work with some of their younger songwriters and artists to help them develop their songwriting.  I was quickly (and luckily) offered several weekly residencies on Lower Broadway playing classic country.  So, not only have been able to make a good living playing traditional country, but I've had a great time working with lots of young artists AND some of the best musicians in the world.  Learning and performing all these old songs - countless times -  really moved my songwriting forward and deepened my understanding of the craft of classic songwriting and I think the albums I've recorded here reflect that." 
Her 2009 album 'Luna Turista', recorded with her band The Holy Wreck ("A phrase stolen from my mom, actually.    'I've got to clean up this kitchen it's a holy wreck!' – as in this is such as mess it's BIBLICAL. Always made me laugh.")  reflected the influence of the city in its loose country-rock sound. As with each album before, 'Luna Turista' was widely received by critics and fans as her strongest work to date; a rare feat for an artist 4 albums in to her career. 
It was then that she began a fast and steady working relationship with the mainstay of The Holy Wreck, guitar hero/multi-instrumentalist, The Legendary Rich Gilbert. "The moniker is tongue in cheek", admits Eileen, "but he is pretty damn amazing." He is a fellow Bostonian, best known for playing guitar with much lauded 70's/80's Boston new wave band Human Sexual Reponse. He later became a member of Frank Black & The Catholics and toured for years with them as well as Tanya Donelly. 
"The first time I saw Rich play I was a teenager and I was stunned by his originality and fierceness. We've known each other for years and years, watched each other perform but never worked together. As soon as we did, it just clicked for both of us. We come from the same place musically, loving the Pistols, Patsy, the Everlys, Devo, Connie Smithe and Dylan...just the same." 
Rich was living in Nashville when they reconnected and was proud tour guide to the city's unique musical heritage and thriving artistic community.  Eileen found a new family of songwriters and players, (both veteran A-list session stars and young, fresh faced hopefuls) all playing 4 hours shows, all day, all night, in the honky tonks of the city's famous Lower Broad Street. When she's not out on the road, she has joined them there playing classic, traditional country music at her own weekly residency shows with her side-project, honky tonk band The Silver Threads. She feels extraordinarily lucky to live in a city where she has the opportunity to perform to a full house every day of the week, then head home with LRG to record her own songs in their own studio, right in the heart of Music City, USA. 
Eileen, always the kinetic artist; moving, shifting, changing, growing, has morphed into an authentic, glorious hybrid of honky heroine, Dylan-esque songstress, and road warrior diva.  Something you just can't fake. You have to live it to get there. 
She has been hailed as the new Patti Smith/Lucinda Williams/Emmylou Harris/Joni Mitchell and compared to (among others) Bob Dylan, Maria McKee, Stevie Nicks, Neil Young, Aimee Mann, David Bowie and even "a one woman mid-period Pink Floyd". Eileen shrugs it off. 
"Regardless of fame and fortune, I'm going to keep writing songs, recording songs and the day I die, I hope I'm late for a gig.  But now, with my own label, I can release the songs any time and any where I please, just like the big guys.  How I got so lucky, I'll never know, but I am deeply grateful."
TEN THINGS YOU DIDN'T KNOW ABOUT EILEEN ROSE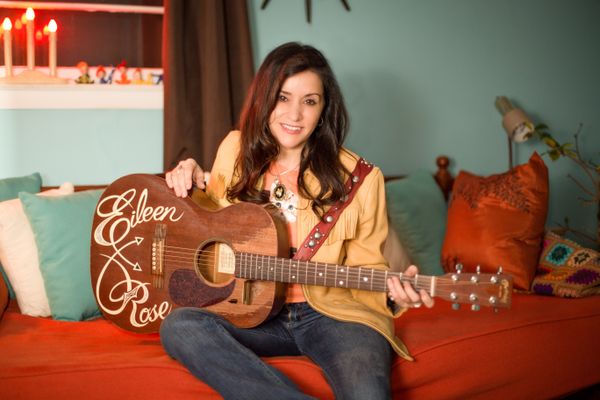 1) Eileen Rose is almost certainly the only anglophile Irish-Italian America, former Esse, former honky tonk girl in the business.
2) She crops up in the most surprising places. You can hear her vocal contributions on electro-acid outfit FC Kahuna's Machine Says Yes, Belfast rockers Therapy's Troublegum and crazed techno-country collective Alabama 3's La Peste. 
3) The notorious bare-knuckle boxer John L. Sullivan was her mother's cousin. 
4) Eileen can say all fifty US states in alphabetical order in less than twelve seconds. 
5) She once toured the Netherlands with The Ramones and says, "That was the toughest gig I've had because Ramones fans? They pretty much want the Ramones." 
6)  Eileen was once a member of Eurthmics founder, Dave Stewart's band where she was thrilled to share the stage with Bootsty Collins himself.  
 7) A voracious reader of music biographies, she is well versed in the history of rock music. 'I love knowing that, for instance, at Monterey, The Who didn't want to follow Jimi Hendrix. Pete Townshend said, 'If I'm following you I'm going to pull out all the stops. And Hendrix said, 'Yeah? Well watch this.' So he goes on and sets his guitar on fire. So then, of course, the Who have to go completely and utterly berserk when they go out there. I just love that.'
8) Eileen has toured with Ryan Adams, Alabama 3, Nitin Sawhney, Ron Sexsmith, Ani DiFranco, Frank Black & The Catholics, Squeeze, Tim Finn, Jackson Brown, Beth Nielsen Champman, Joe Ely, Joe Bonomassa, Kelly Willis, The Jayhawks, Lambchop … you get the idea. 
9)  Eileen can and has performed hundreds of traditional country music songs learned in her decade of performing on Nashville's historic Lower Broadway. 
10) Eileens speaks, sings and cooks in Italian.